"O Christmas tree, O Christmas tree, we gladly bid you welcome. You shrink to very tiny size...spun out of silver, gold and glass, a pyramid of light you seem, a galaxy of stars that gleam. O Christmas tree,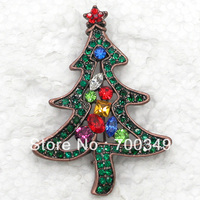 Marquise Christmas tree Pin
Those familiar with this old German Carol might not recognize the order of the verses, but I decided to adapt them to celebrate another kind of Christmas tree--very tiny size, but nonetheless spun out of silver and gold and a galaxy of stars that gleam.

Vintage Eisenberg Ice Rhinestone Christmas Tree Pin Brooch
A few years ago when I became fascinated with vintage costume jewelry, I discovered Christmas tree pins, many made by the same famous designers who made fabulous costume jewelry: Eisenberg, Weiss, Miriam Haskell, Trifari, Butler & Wilson, Kirk's Folly, Ian St. Gielar, Stanley Hagler, Napier, Coro, Hattie Carnegie, even Avon.

Having always loved miniatures, Christmas tree pins became my new favorite thing to collect. Plus they were exquisite, whimsical and very, very sparkly (all those rhinestones, dontcha know!) and unlike other holiday decorations, easy to store.
VINTAGE HOLLYCRAFT RHINESTONE CHRISTMAS TREE PIN
Not only are these pins small and easier to put away after Christmas than ornaments and tinsel and have no unsightly needles that need vacuuming, they make lovely gifts--for yourself or anyone else on your list (except maybe the boys and they always want those shoot-your-eye out Red Ryder BB guns anyway
.)
Happy Holidays, everyone!