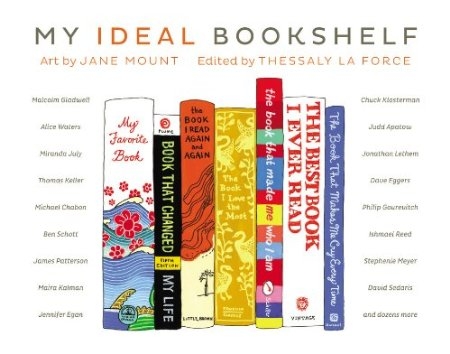 A question that I have always found difficult to answer is "What is your favorite book of all time?" My answer is always something like "Well... it really depends..." and I list a few books that have meant something to me for various reasons, but never really nail down one specific book. However, Jane Mount and Thessaly La Force's My Ideal Bookshelf
has made this task a lot easier. Instead of asking people for their favorite book, they asked a multitude of creative types - people involved in film, food, books, music, and fashion - for their "ideal bookshelf". This would be a list of the books that matter to them the most and hold a special place in their lives. Artist Jane Mount then took the list of the participants books and painted them to bring them to life. Each painting in the book is featured next to an explanation written by the participant of why they chose the books they love so much. So do you want to see the books James Franco holds dearest? Check out page 62.
Ideal Bookshelf of Kathleen Hart
President of Delta College
by Jean Ramey






For the One Book, One San Joaquin program this September, we are bringing the Ideal Bookshelf concept into our community. We asked a diverse group of people from our own local community for the books that would be found on their own Ideal Bookshelves. Those lists were illustrated by a number of local artists, from high school students to professional artists, which will be featured during our community reading programs and at many of our branches this September. We will also be featuring the Ideal Bookshelves of all of the featured authors of this year's One Book, One San Joaquin program including Nina Sankovitch, Rebecca Rupp, and John Green.
These paintings will be featured together at the Reading Meets Art: My Ideal Bookshelf Art Reception on Monday, September 9th at 6:00 p.m. at the Cesar Chavez Library. Join us to see what people from our community picked as their favorite books!