I spent my evenings this week listening to an audiobook for tweens. You know, tweens, those people who are no longer small children, but not quite teenagers yet (never mind not quite being adult yet.)
The main characters in Five, Six, Seven, Nate! are thirteen years old. The narrator of this story is Nathan (Nate) Foster, a theater geek who is leaving home to appear in his first Broadway musical. Okay, so he'll be playing Alien Number Seven, not actually starring in ET: The Musical, but, still! This could be his big break.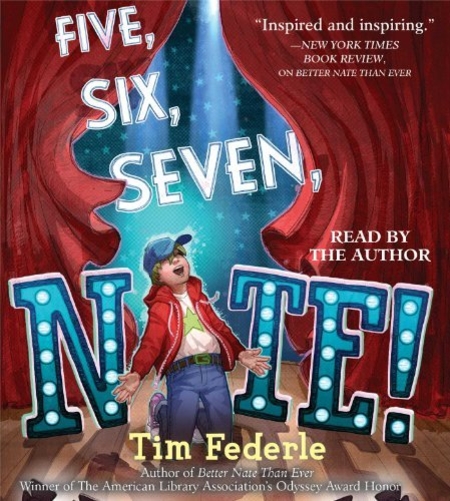 After Nate says goodbye to his best friend (and fellow theater nerd) Libby, he arrives on the first day of rehearsals to find that practically everybody else in
the production has professional experience.
Five, Six, Seven, Nate gives us a glimpse into the behind-the-scenes production of a Broadway musical, and the large number of (often interesting) people involved in making a show happen.
I listened to the audio version of this book, because it was honored by the 2015 Odyssey Award committee. This award is given to
the best audiobook produced for children and/or young adults available in English in the United States. The author of the book, Tim Federle, reads the book out loud in the audio version. He makes the character of Nate come alive.
I see that Five, Six, Seven, Nate! is the sequel to a book called
Better Nate than Never.
I'll be looking for that one and reading it soon. I hope there will be more books about Nate. He's such a likable character.
Interesting fact: the Odyssey Award is named in tribute to Homer, the blind ancient Greek poet who rendered epic tales like the Trojan War and Odysseus' voyages into verse form. Long ago, when most people did not know how to write, such epics were shared through the oral tradition. Think of that, next time you're listening to a good book.